Get your Dental and Vision Quote Now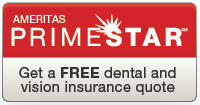 Get started on your free quote today!
If you are in the market for dental and vision insurance and find yourself asking, "Why do I need it?" consider the advantages to your overall health. Our oral and ocular health can be key indicators in detecting early stages of many health risks and diseases along with preventing many other health issues.